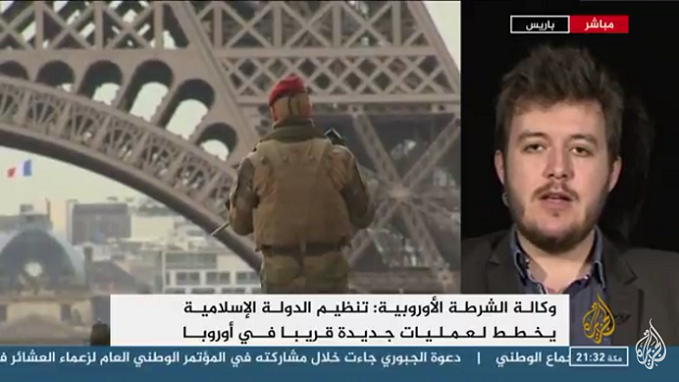 Looking for a professional journalist and fixer in Paris?
You are coming to France to work on a report, a documentary, an investigation or any kind of journalistic work here? You need help to manage your shooting or to find the right contacts? Do not hesitate to contact me.
I'm a professional freelance reporter based in Paris. I work on international and defense issues. Some of the media I have been working for last years: Radio France Internationale (RFI), Slate, L'Express, Atlantico, iTELE…
I'm also a specialist in information war. I have a PhD in media studies and my academic research is about those issues: propaganda, information operations, psychological operations, public relations…
What kind of help I can offer?
– Find the right contacts in political, academicals, military, security or economic networks. I also can help you to find any French people to testimony about life and news here.
– Organize a shooting, manage a time schedule.
– Find the nice places for those shootings.
– Get official accreditations for you.
– Help interpreting between French and English.
– Rent equipment or car.
– Advice on ethical norms in France: should you pay or not a source for an interview?
What I cannot do?
– You are working on cultural or sports issues? Let's be honest: I do not understand anything in those. But feel free to contact me. I will put you in touch with colleagues who have the knowledges, skills and networks.
Examples of global media I have helped
– Al Jazeera – They were working on a report about the relations between the US administration and French politics. Between Emmanuel Macron and the National Front, who is the closest to Donald Trump's team?
I find for them the people to interview: a top level National Front executive, a progressive academic analyst and a conservative columnist. I helped with the logistics and booked places for the shootings.
– TVE (Spanish public TV) – They were coming to Paris to follow the king's state visit.
I was one of their cameramen. I helped to get the official accreditations for some shootings in museums and ministries.
Any questions?
Feel free to contact me for all the answers: romain.mielcarek@gmail.com // 0033 670 83 79 69